Volker Müller and Dirk Schnurpfeil represented the Nikolaus SORG company at the 37th Technical College Colloquium of the Zwiesel Glass College. The event provides a platform for the exchange of knowledge among representatives from the German glass and glass supply industry and imparts new knowledge about glass as a material, glass production, further processing and finishing. The approximately 110 participants were offered a well-mixed portfolio of topics, with SORG in particular focusing on glass melting technology issues.
Dirk Schnurpfeil, Head of Research and Development at SORG, used the example of the SORG CLEAN-Melter® to address the challenges involved in operating a hybrid furnace. Hybrid furnaces are the tool of choice when it comes to harmonizing the reduction of CO2 emissions in the glass industry with the changing market prices for energy sources. The significant changes in the temperature fields in the furnace resulting from the variable electrical components of the heat input not only place high demands on the refractory material, they also influence the behavior of batch and foam and ultimately the glass quality. Numerous questions following the lecture showed that decarbonization is a topic that definitely concerns the glass industry. Basically, it could be seen that higher efficiency and more automation play a role in all topics and also the expected shortage of skilled workers.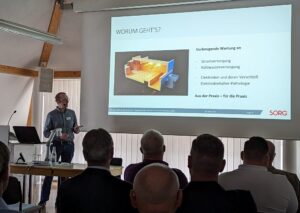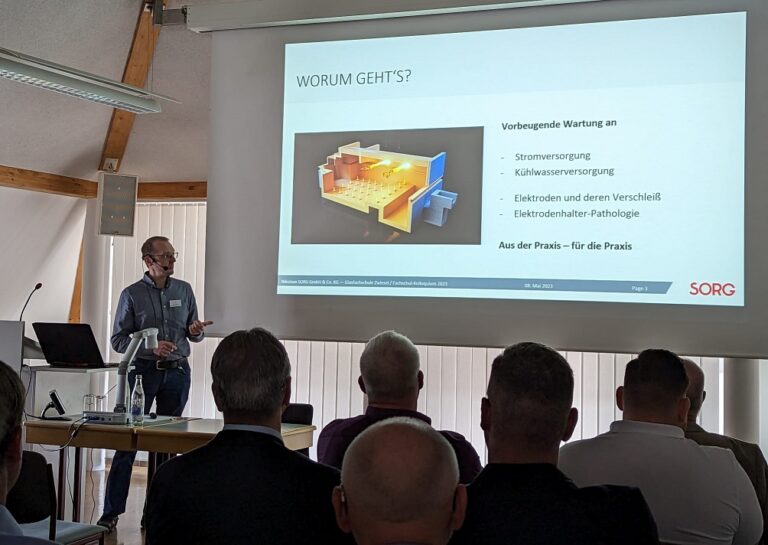 Volker Müller, Head of Electrical Melting Department at SORG, gave a presentation on preventive maintenance on electrical heating systems. The energy turnaround is currently leading to a significant increase in the electrical power installed on conventional glass melting furnaces. With higher installed power and more installed electrodes, the risk of damage and failure can increase. Correct and regular execution of necessary maintenance measures prevents time-consuming and expensive repair work and possible loss of production.
The presentation showed measures of good operating practice for both the electrical power supply and the electrode holders and electrodes installed in the melting tank. This is a topic that is also relevant for operators of the conventional furnaces with moderate boosting that are still widely used today. Müller pointed out what glass manufacturers must pay attention to themselves with their maintenance personnel and what support SORG can provide in the condition assessment as well as maintenance of the electrical heating system.
Overall, after the corona-related break, the Zwiesel Colloquium was, as usual, a very well-organized event that provides a professional framework for the exchange among experts.